{ active = $event.detail; $root.scrollTo({ top: $root.firstElementChild.offsetHeight * active, left: $root.firstElementChild.offsetWidth * active, behavior: 'smooth' }); } " >
Wide slat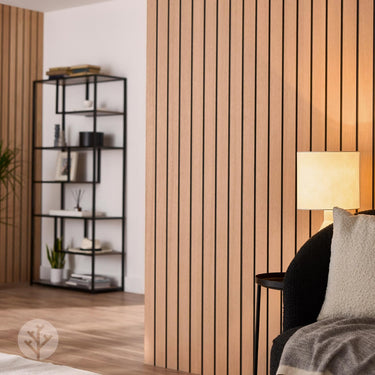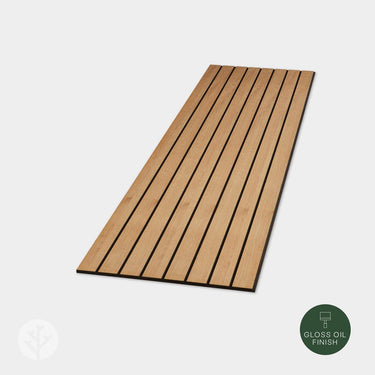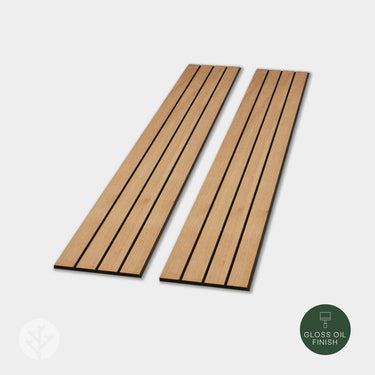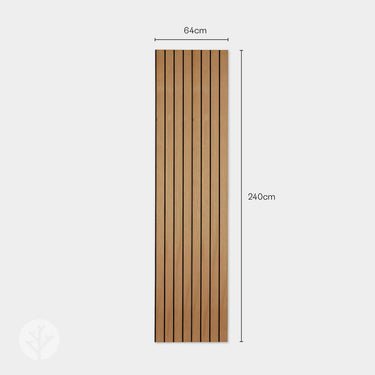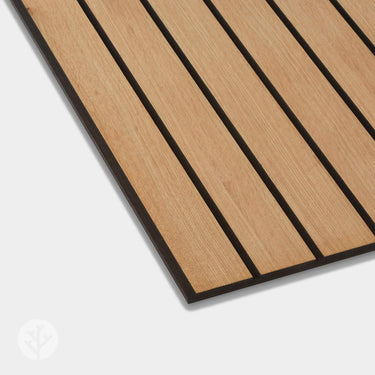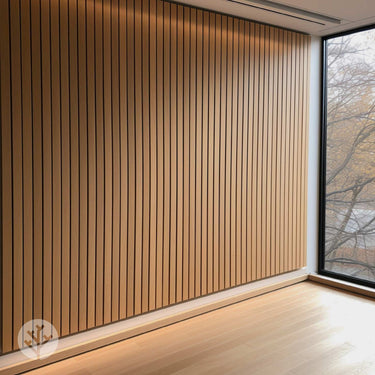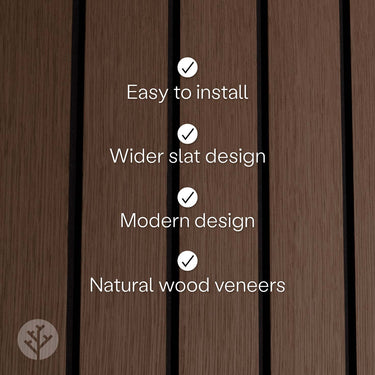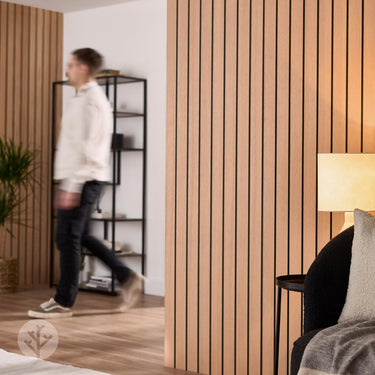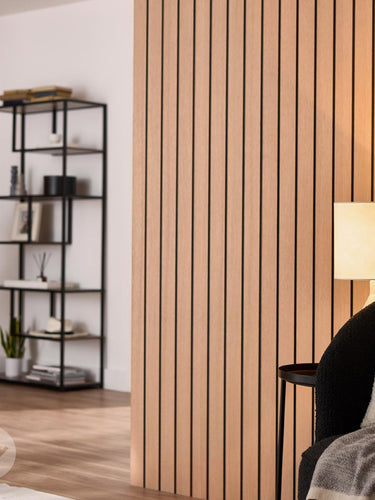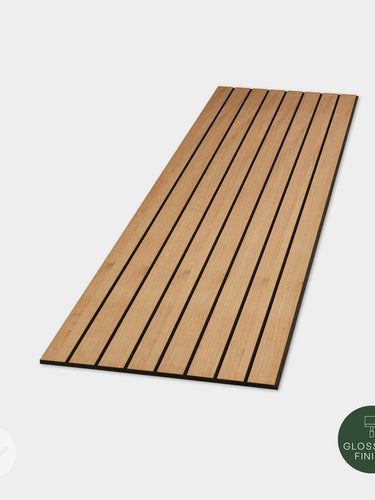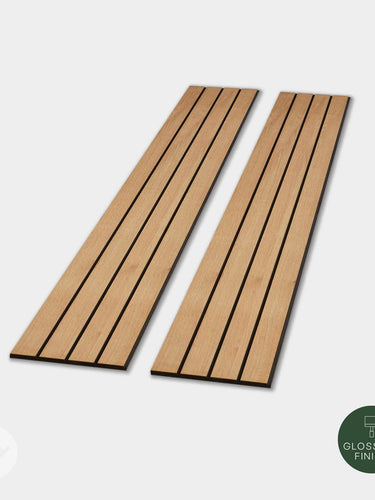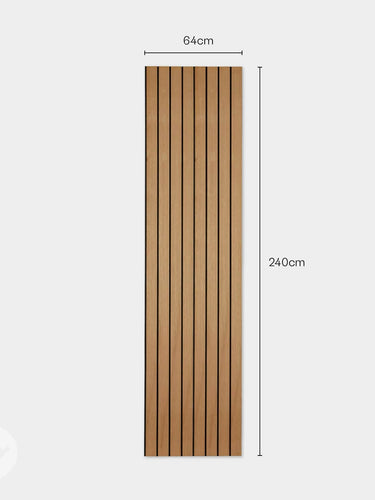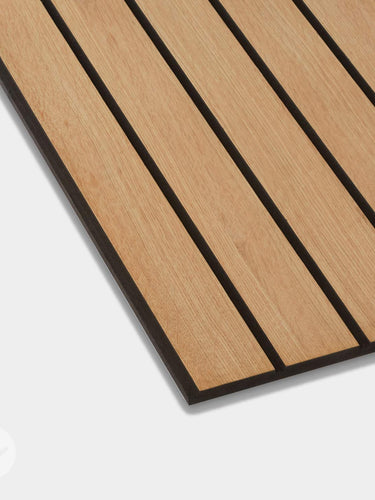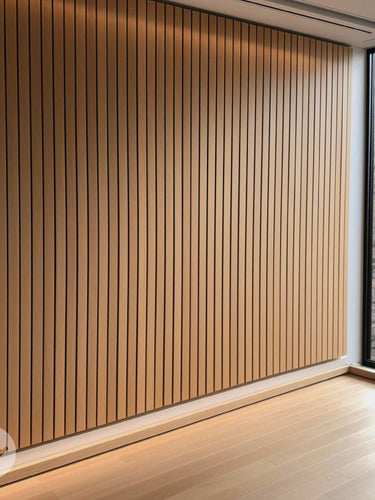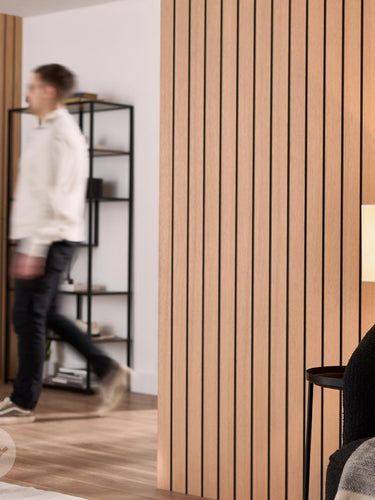 { active = document.querySelector('#product-hero').getBoundingClientRect().bottom <= 0 && document.querySelector('#footer').getBoundingClientRect().top > window.innerHeight } " >
Slatpanel® Luxury Oak Non-Acoustic Wide Slat Wood Wall Panels Regular: 240cm x 64cm Oak $261.00 CAD
{ variant = $event.detail.variant; available = $event.detail.available if (panel) active = true; } " >
Coverage calculator
Tell us the measurements of the space you'd like to cover and we'll calculate the number of panels needed for your project.
spec = specs.find(s => s.id == e.detail)" class="bg-white" >
Sizing and dimensions
Our overall 240cm x 64cm panel is split into two pieces for shipping, These join seamlessly together.

Height:

cm

Width:

cm

Depth:

cm

Weight:

kg

Slat width:

cm

Slat depth:

cm

Slats per panel:

Coverage:

m²

Felt backing:

cm

Material:
Thanks for leaving a review!

Loading reviews...
Why buy from us
Get to know why we're the leaders in the wall panelling industry.
Non-acoustic wide slat wood panels
All stock held in our Canadian warehouse
Backing felt produced from recycled material
Quick and easy installation
Luxury satin oil finish
Designed in Denmark, delivered from Canada
Superior sound absorption
Over 40 years of experience providing luxury wood products
Premium wood wall panelling solution
With over 900 reviews, our customers rate us as excellent on
Great experience, great quality and easy install
Great all around experience. The material arrived quick with no damage and feels of great quality. The install was extremely easy, I got the black background and used black drywall screw. You can't even see the screws.
Raydel Enriquez
Amazing product and service
I would like to personally thank the entire team at WVH for the amazing support as well as the outstanding product that they delivered to ensure that our project was successful. I look forward to working with WVH on many more projects to come!
Georgia Peterman
These far exceeded my expectations
These far exceeded my expectations! This wood is absolutely gorgeous — and the acoustical paneling it sits on had the effect of bringing some additional insulation to the room. The end effect was both beautiful — and quieter! It elevated the entire space. Outstanding.
Julie A
I absolutely love this company
I absolutely love this company. Their products are amazing, customer service is top notch. I will recommend them again and again!
Randa
Amazing product
Just got done building a podcast studio and the panels really make the whole look. They were incredibly easy to put up. We love them and will for sure be ordering more!
Don Henson
Frequently asked questions
Our team is on hand from Monday to Friday, 9am to 5pm EST, to answer any questions. Give us a call on 03 7044 1911, email us or start a live chat.
Get in touch
Each box contains two panels measuring 240cm x 32cm. These panels will join next to each other seamlessly with no join line showing.

We value your time and aim to get your order to you as quickly as possible. All of our wall panels are held in stock in our warehouse and are shipped within 48 hours of receiving the order. If a product is on pre-order, this will be clearly stated on the product page so you can plan accordingly.

We're proud to offer free, nationwide shipping across Canada for our wall panelling range. Whether you're located in Toronto, Ottawa, Calgary, or anywhere in between, we've got you covered.

At WVH®, you have 30 days to return your wall paneling order, provided the box remains unopened. To initiate a return or exchange, please contact our customer service team, who will guide you through the process. Ensure you have your order number and details handy for a smooth procedure. You can read our full return policy here.

Depending on the surface, the installation method may vary. Here are a few ways we recommend installing our panels:

Gluing straight onto the wall:
A grab adhesive is recommended for this approach.
Screwing directly onto your surface:
Depending on the backing color, use either black screws for black backing or silver or grey screws for grey backing. We recommend a minimum of nine screws per panel at regular intervals across the width and length of the panel. If installing onto ceilings, ensure the panels are screwed into ceiling joists. Please use the appropriate fixings for your surface.
Screwing into timber batons:
This is a great option if you want to optimize the sound insulation properties of the panels, or need the space to hide wiring or pipework. For optimum sound absorption, we recommend screwing 45mm timber batons to the wall, and attaching the panels to the batons. Adding a sound absorption insulation product behind the panels will improve this further.

You can install the panels on any surface, including brick, concrete, and plasterboard.

The panels are designed for interior use only.

Of course! The panels can be installed in these areas, as long as they are not in direct contact with water. We recommend, where possible, applying a water-resistant finish to the front of the slats to give them an extra layer of protection.

The panels have been designed to have the edge exposed, but you can always trim off the excess felt to have a flush finish. The slats are the same color throughout, so a cut edge will look like the rest of the panel, without any extra steps.

It's straightforward to install around sockets and other wall-mounted fixtures. You can cut through the slats with a sharp saw, and the felt with a sharp blade, like a utility knife, to get a snug fit around your sockets and windows.

You can! If you need access to the wiring, we recommend installing them on wooden battens where possible.

We offer a range of standard sizes that cater to the needs of most projects, which you can select from our size drop-down. The panels are designed to be easily cut down to size if required. They also join together seamlessly if you need to fill a larger area.

We do not currently offer bespoke sizes and designs, but if you have any specific requirements, or are looking to bulk order, please contact our customer service team for more information.

The finish available is a satin oil professionally applied to give an even coating across the panel.

Use a microfibre cloth to wipe off any surface dust from the panels. To remove any scuffs or marks, use a damp cloth to remove them with ease.

Absolutely! We believe in the quality of our products and want you to be 100% confident in your choice. Visit our dedicated samples page to purchase your sample pack today.
Our team is on hand from Monday to Friday, 9am to 5pm EST, to answer any questions. Give us a call on 03 7044 1911, email us or start a live chat.
Sign up for trade today to get instant access to exclusive benefits for professionals.
Get a trade account