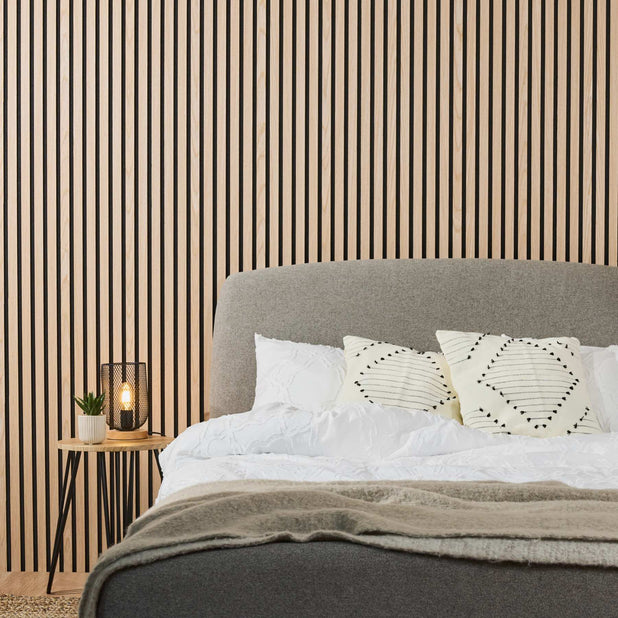 You may also like

Wall panelling ideas – experts offer 8 simple tricks to wake up your walls.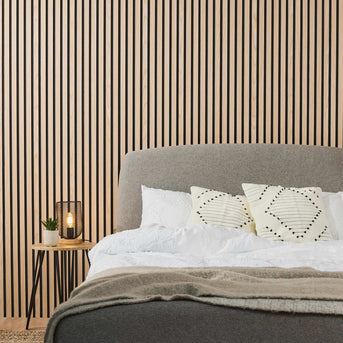 How to enhance your home with wall panels
Discover simple yet innovative ways to enhance your home with wall panelling ideas and expert guidance.
You'll find no shortage of ideas once you've decided to incorporate wall panelling into your home decor.
This simple yet sophisticated look can effortlessly elevate any room, regardless of its architectural style.
Wall panelling is a versatile option used in various rooms, such as bathrooms and powder rooms, to protect the walls from splashes and spills or in home offices and bedrooms to create a luxurious feel.
Wood panels can hide imperfections as well as serve as a decorative accent
Wood panels hide imperfections on walls, conceal wiring, or serve as a decorative accent to transform the overall look of a space. Different materials like wood, MDF, glass, mirrors, and even upholstered cushion panels are available to suit individual preferences.
Wood wall panels are an easy way to enhance the appearance of your home
If you're searching for an easy way to enhance the appearance of your home, consider using wood panels as a wall decor idea in your bathroom, bedroom, or living room. Keep reading for helpful tips on how to achieve this stylish look.

How to execute wall panelling ideas well
If you would prefer to avoid installing wood panelling yourself, it's best to seek out a professional with experience in this area.
You'll want to find someone who can ensure that the panels are correctly aligned, fit the style of your home, and look impeccable.
Consider hiring a skilled joiner or handyman to install MDF tongue and groove panels with mouldings.
It's always a good idea to request samples of their previous work.
However, if you're feeling adventurous and want to tackle the project yourself, plenty of DIY tutorials are available on YouTube.
Plan your design carefully and ensure your panelling is evenly spaced and proportioned. If you're not working with an interior designer or architect, it's essential to take these steps to ensure your finished product looks stunning.
Use panelling to disguise a door

Utilizing panelling from floor to ceiling on your walls presents a unique opportunity to incorporate a concealed door leading to a secret room. With the door blending seamlessly into the panelling, you can create a distinguished area that adds a touch of elegance to your home.




Try wooden panelling

Consider lining your walls with wood panelling to achieve a cozy, rustic ambience. Wood panels can bring a touch of nature into your home while providing a stylish backdrop that requires no additional painting. For example, in a home designed by Pam Maher Design, the dining room was panelled with character-grade white oak, also used in other areas of the house for a cohesive look.





Use panelling on the staircase

People use wall panelling in areas beyond just the main rooms of their homes. A staircase can be an ideal location to showcase the beauty of wall panelling. 




Consider the era the house was built

When it comes to designing panelling for your home, it's not necessarily about the era of your property, but rather doing the necessary research to match the panelling design with the period of the house if you want it to be sympathetic. 




Use wall panels as a space to be creative

For a modern twist on panelling, consider adding a pop of colour to the lower half of the wall and incorporating vibrant wallpaper on the upper half. Another option is to use panels with unique geometric shapes to add texture to the space. 




Try panels in the bathroom

Different rooms may suit different panelling styles, depending on their purpose and the desired effect.
Generally, more ornate panelling ideas were traditionally reserved for entrances and entertaining spaces, while less fancy detailing was used in tucked-away rooms like bathrooms.
However, this doesn't mean that bathroom wall panel ideas lack substance! Intricate panel designs often work well with more neutral, classic shades, while modern styles can incorporate more daring hues.
For example, a hallway and living room may be more suited to grander or more sophisticated style panelling, as they were often the rooms where guests were received.
On the other hand, a powder room or bathroom may be better suited to more straightforward and more modest styles, such as tongue and groove.


Consider wainscotting for high-traffic areas

Interior experts say wainscoting is an excellent option for high-traffic areas such as entrance halls and powder rooms.
It allows you to experiment with colour and wallpaper, either sticking to similar tones or mixing it up.
Additionally, it can be used to protect walls from scuffs and marks. It is recommended to paint them with a durable grade of paint, such as eggshell or intelligent finishes, which are easy to wipe down and keep clean.




Play with colour

Wainscoting can be a great way to mix traditional and modern designs.
For a more vibrant look, using classic panelling in a bold hue and painting the panelling and wallpaper with the same colour tone can add personality while maintaining harmony.
On the other hand, shiplap panelling provides a more modern and minimalist design that can look good in classic white or something brighter. It is recommended to keep the panelling the same colour as the wall for a subtle texture or use a playful colour combination with the suitable wallpaper. 
 

How can I make my panelled walls look good?
Over the past few years, wall panelling has become a popular trend in interior design.
With various styles available, there's a panelling idea to fit most schemes.
If you're looking for the pattern, you can wallpaper the remaining walls above in a vibrant design or create a two-tone effect by running a line of tape and opting for contrasting paint colours on your panelling.
This approach works particularly well if you're after a modern and graphic look.
Does wall panelling make a room look smaller?
The impact of wall panelling on a room's size is not set in stone.
It all depends on the type of cladding you choose and your installation technique. Make a room feel small if you go for darker finishes, whether original wood or paint ideas.
However, light-coloured cladding can help open up space.
That said, darker tones and woods have their advantages, too.
They can create a cozy and intimate atmosphere.
Add vertical planks of wood to a wall to make your room feel more spacious.
This will draw the eye toward the ceiling, giving the illusion of more space.
Guidance from our experts
Looking for top-notch wall panelling that blends elegance, resilience, and cost-effectiveness? Look no further than The WVH team.
With our extensive range of panels available in numerous materials and styles, you can achieve the desired appearance for your residence.
Our skilled specialists will also assist you every step of the way, from picking out the best panels to setting them up. So why wait? Get in touch with us now, and let's enhance the appearance of your home!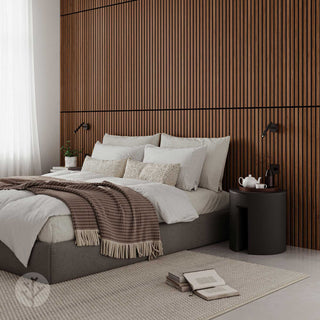 Interior Design
Read our guide on bedroom wall ideas and you'll soon have a bedroom ideal for relaxing and unwinding.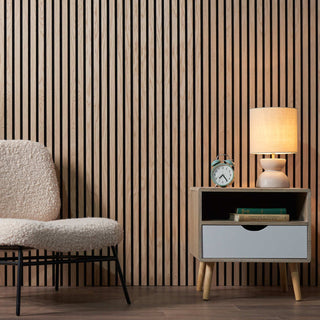 DIY Tips
Have you ever walked into a room and instantly felt drawn to the walls and wondered why?
See all posts