Enhance your spaces with acoustic excellence - introducing WVH® | wood wall panels
DIY Tips
Interior Design
Product Innovation
2 min read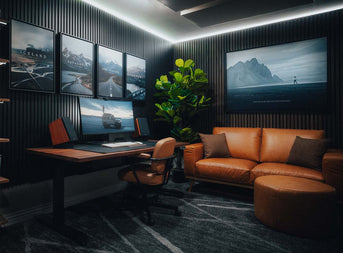 Are you looking to elevate your spaces both aesthetically and acoustically? Look no further! At Slatpanel®, we pride ourselves on delivering more than just visually appealing wood wall panels. Our panels come with their own impressive acoustic ratings, making them the ideal choice for transforming your spaces into acoustically optimized havens. Whether you're setting up a cinema room, designing an office space, outfitting a recording studio, or even working on an auditorium project, our Wood Wall Panels have got you covered.
WVH: Elevating Acoustics Globally 🌍
At WVH, we believe in providing the best acoustic solutions for our customers. Our Wood Wall Panels in the UK are rigorously tested and boast a remarkable measurement of sound absorption coefficient according to DS/EN ISO 354:2003 standards. But what does that mean for you?
Why Acoustic Ratings Matter
Before diving into the technical details, let's discuss why acoustic ratings are essential for any space. When it comes to designing a room, sound quality plays a crucial role in determining its functionality and comfort.
Unwanted echoes, reverberations, and noise interference can detract from the overall experience, whether you're watching a movie, working in an office, recording music, or enjoying a live performance.

Acoustic ratings help us understand how well a material or panel can absorb sound, reducing these unwanted disturbances and enhancing the overall auditory experience in a room. This is especially important in spaces where sound quality matters, such as home theaters, offices, recording studios, and auditoriums.
There are a few key aspects to take into consideration when it comes to acoustics 
Sound Absorption Coefficient
Our Wood Wall Panels undergo rigorous testing to determine their sound absorption coefficient. This coefficient measures how effectively the panels can absorb sound, reducing noise and enhancing the overall acoustic environment. The higher the coefficient, the better the panels are at absorbing sound, ensuring a more comfortable and enjoyable space.
Tested with Timber Batons and Rockwool / Drywall / Plasterboard Insulation
To provide you with the most accurate and reliable acoustic performance, our panels are tested in real-world conditions. We incorporate timber batons and Rockwool insulation during the installation process, replicating the conditions you would find in your own space. This ensures that our Wood Wall Panels deliver consistent acoustic excellence when installed properly.
In conclusion
If you're searching for wood wall panels that not only enhance the aesthetics of your space but also elevate its acoustic quality, WVH is your go-to choice. Our UK-made panels are backed by rigorous testing and sound absorption coefficients according to DS/EN ISO 354:2003 standards, ensuring that you get the best of both worlds: stunning visuals and exceptional acoustics.

Transform your space into an acoustically optimized haven with WVH Wood Wall Panels. Whether you're enjoying a movie night, working in a productive office, or recording music, you'll appreciate the difference our panels make.
Expert guidance
Are you looking for premium wall panelling that seamlessly blends sophistication with durability and value for money? Look no further; with over 40 years of experience supplying luxury wood products our wood wall panels are available in numerous colours and styles, so you can achieve the look you always wanted for your home.

So why wait? Browse our wood wall panelling range today.